A robust SEO strategy includes a healthy helping of social media interaction. Smart digital marketers know social media provides an invaluable direct conduit to their customer base. Ideally, social media can help you to build brand recognition, generate leads, repeat customers, and introduce new products and services to the market.
The only trouble? It takes too much time to manage everything all at once, and as you know, time is money. Fortunately, there are a number of tools available to us that are designed to make managing your social media accounts...and life...easier. To get the ball rolling, we've put together a brief overview of a few of the most popular social media management tools available to SEO's, digital marketers, and social media experts.
Stop wasting time, start managing your time with these helpful tools.
1. Everypost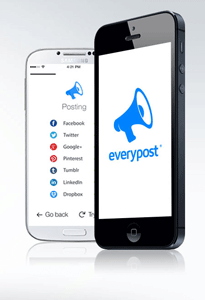 First up is Everypost. Social media may be an invaluable addition to your marketing strategy, but all of those regular updates take time to create and post. Everypost allows you to create, and post, all of your updates to the major social media platforms at once, and from a single interface.
Using Everypost, you can create your message, add photos or video content as desired, and then post your update to all of your social media accounts at the same time. Everypost supports most of the major social media platforms, including Twitter, Facebook, Google+, and LinkedIn.
The best part of Everypost is that it's free.
2. MissingLettr
This platform is without a doubt the most time-saving social media tool out there. Missinglettr allows you to enter your RSS feed into their system, and like magic, it will create a campaign for every new post it sees. These campaigns can be set at 6-months, 12-months, and many other options.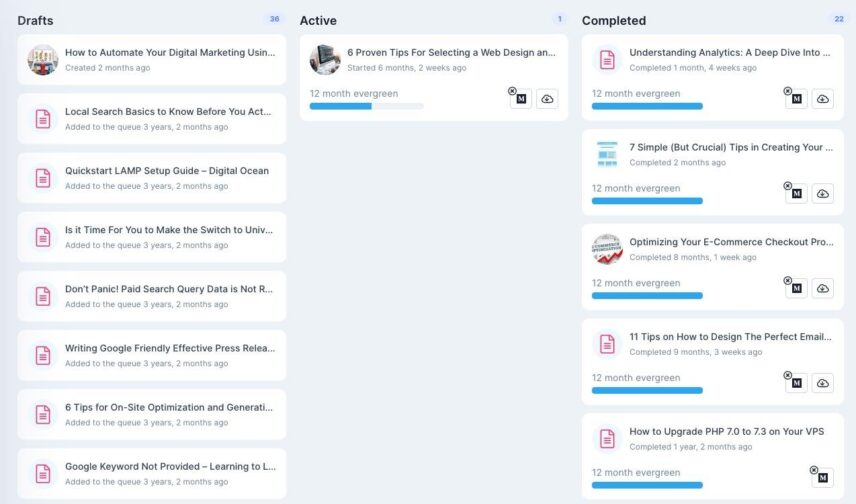 And very recently, their platform has introduced a Curate option which will allow you to add additional social media posts to your feed so that it appears fresh and engaging.
You will not be disappointed with this social media solution!
3. SocialBee

If there's a tool out there that can guarantee more leads with considerably less effort, that is SocialBee. Ideally suited for solopreneurs, freelancers, and small businesses, the core functionalities of SocialBee allow you to create, categorize, and publish content on all major social media platforms, from Facebook and LinkedIn, to Twitter and Instagram and even Pinterest and Google My Business.
SocialBee boasts several features that its users find really exciting, such as generating a posting schedule according to best social media practices and the evergreen feature that makes it possible for you to recycle engaging content so you don't run the risk of having anything to post. What's more, SocialBee has been consistently applauded for its excellent and dedicated customer service.
Pricing starts at $19 and the good news is that you get a 30-day money-back guarantee, although we have a feeling you'll end up loving it.
4. SocialFlow

SocialFlow is one of the more impressive social media management tools available. Using its own proprietary algorithm, SocialFlow allows you to monitor and track your Facebook and Twitter data so that you can maximize the value of your regular posts.
SocialFlow monitors data according to relevance, audience, and time. In short, SocialFlow lets you see how many people are connecting with your updates, who they are, and when they are making contact. This will help to create more engaging content, as well as helping you decide when to post and who to target. SocialFlow services start at about $99 a month.
5. Buffer

is one of the more popular social media management tools for its simplicity. Buffer makes it easy to share content and schedule posts on a wide range of social media platforms, including Facebook, Twitter, Google+, and LinkedIn using a simple browser add-on.
Using Buffer you can schedule your social media updates so that all of your accounts have a steady stream of updates throughout the day, and so keeping your brand in front of potential leads and customers. The service also provides analytics on the reach and engagement of your updates with the business plan.
Buffer is free for the first 4 accounts, then their "awesome" plan allows up to 12 for $10/month.
6. Hootsuite
Like Buffer, you've probably heard of the popular, Hootsuite, which allows you to manage posts across a wide variety of platforms including Instagram, Tumblr, YouTube, along with the big 4 social profiles you're used to.
Hootsuite enables you to manually schedule posts or auto-schedule posts depending on the time of day your audience is most likely to see your content. And the dashboard is layout out intuitively in columns.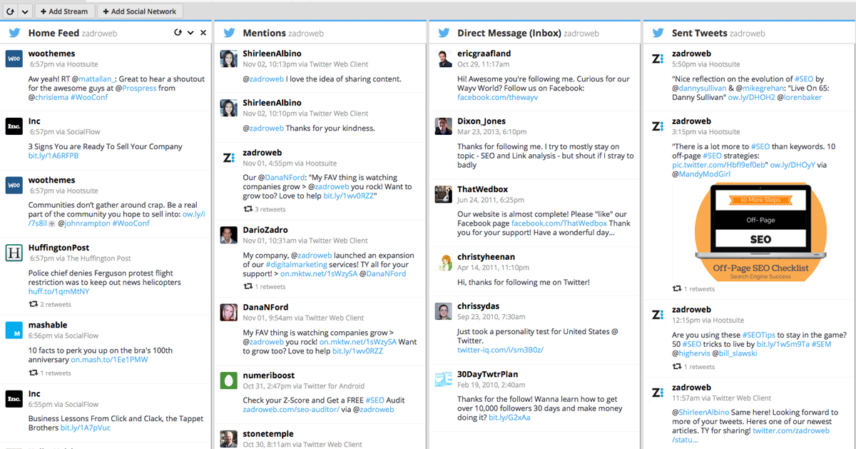 Basic setup is free but limits the number of accounts one can manage. On Hootsuite, your business can divide management into teams and add admins. Upgrades are based on the number of company users and let small/medium businesses and agencies manage social media presence across all social networks, scheduling hundreds of posts at once with Hootsuite's Bulk Scheduling Tool.
Hootsuite Pro also provides detailed analytics of all social platforms. This management system is sometimes more costly than others with advanced reporting, but perfect for both small and large companies looking for a wide variety of capabilities.
Hootsuite is by far my most used social media management tool!
In Summary
Social media can play an important part in your business's digital marketing strategies, but only if it is properly managed. social media management tools make it easier to create and post content, as well as provide important metrics that can help to inform and define your future marketing campaigns.
As always, the trick is finding the right tool for your social media needs. The few mentioned here are just the tip of the iceberg when it comes to social media management Systems, but should hopefully set you on the right track to finding the application that best suits your social media strategies.
Do you have a favorite tool you like? Feel free to start a discussion in the comments below, and thanks for reading!