Anything we can automate will make our lives easier. Automation is the key to success - everything from our business processes to our personal lives becomes much more efficient.
This is especially true with our SEO and marketing efforts. In this tutorial, I'm going to go over some ways to use the powerful platform IFTTT to merely a few tasks using our RSS feed.
If you have a blog, you most certainly have a feed that is updated with every new post you create. We can leverage this and use the power of automation to increase visibility on social media channels and build increased authority for our website.
We will go through each of these items below, and I'll explain each one in detail as we go along.
Twitter
Tumblr
Bitly
IFTTT
I suggest you read through everything first, then go back to each section so that you understand all the terminology. Keep in mind that this is just the tip of the iceberg with what you can do to automate your digital marketing.
Setting Up Twitter
I'm assuming you already have a Twitter account setup. Make sure you're using business accounts and not your personal accounts. It's much cleaner this way, and nobody in your business community wants to see that you follow Adriana Lima or David Beckham (unless of course, your niche is celebrity gossip).
Twitter is extremely simple to set up. Just go and sign up, and you're pretty much done. You'll want to have a social media strategy in place down the road, and you can learn more about how your business will benefit from social media.
You could also set up a Facebook account, but their algorithm is highly based on a paid model if you aren't a large brand or have a highly active account. Feel free to use your Facebook page as well, but I'm going to skip it for the rest of this tutorial.
Since you most likely have these larger social accounts set up, I wanted to start here, and we'll circle back to integration in a bit.
Tumblr for Simplicity
I'm currently only adding Tumblr as the main blog syndication platform for this tutorial. You can quickly expand this concept to other platforms, such as Blogger or Weebly. There are so many "applets" on IFTTT, and we'll get there soon.
Tumblr is easy to set up and has a simple theme right out of the box. It's effortless to add an avatar, title, and description. Head over to Tumblr.com and create a new account and complete as much as you can on the basic theme. Create a detailed description and add some links back to your main website to pass authority.
Bitly Keeps Things Clean
Bitly will provide clean and shortened URLs for our automation process. There are also some great stats directly in the Bitly platform we can view later. What I love most about adding this component is that nobody knows your process is being automated.
Head over to Bitly.com and create a new account. We will connect your Bitly account to IFTTT in the following section.
Quick note: While the tracking of Bitly is excellent, there's a potential that the redirects to your site will not pass as much authority from the social automation we're building. Since initially writing this tutorial, I've opted to turn OFF the auto-shortening.
However, I still mention it below, in case you want the tracking. Let's get started with IFTTT!
IFTTT is Automation Gold
This system is very powerful for automation tasks. IFTTT stands for "if this, then that" and has a lot of "channels" to connect and create "recipes" with.
A channel is any 3rd party account, such as Twitter and Tumblr. There are over 200 channels that you can leverage using IFTTT, and the recipes are where the automation tasks are created.
First thing, let's connect our Bitly account to IFTTT. Click on your account name in the upper right and choose "preferences." Then scroll down until you see URL Shortening and click the button.

Now, any automation (recipe) you set up will have a bit.ly shortened URL when posting to your channels.
The next thing you want to do is click on Channels (at the top next to your login name) and do a search for Twitter and Tumblr. Select each (one by one) and choose "Connect" to get those set up. It should be straightforward.
We're finally ready to create your first recipe! Remember how we discussed RSS feeds in the beginning? This is where we finally tie everything together.
So, let's get started. Click on your icon in the top-right, and then click on "Create ".
Next, click the "+" button then search for "feed," and you will see the orange RSS icon. Go ahead and select it.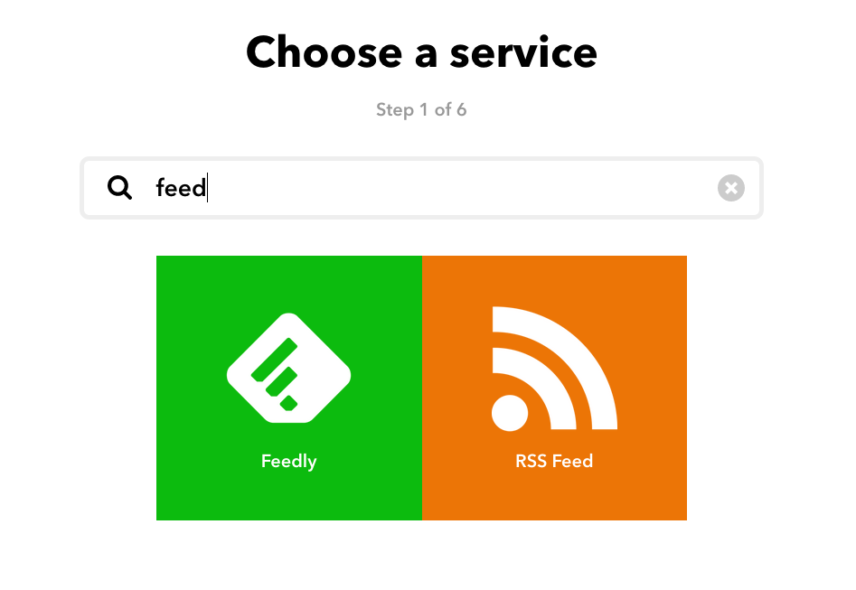 The next step in creating a recipe is choosing a "trigger." This is the event that will fire the next step in the process. For the feed trigger, you will want to select the "new feed item" option.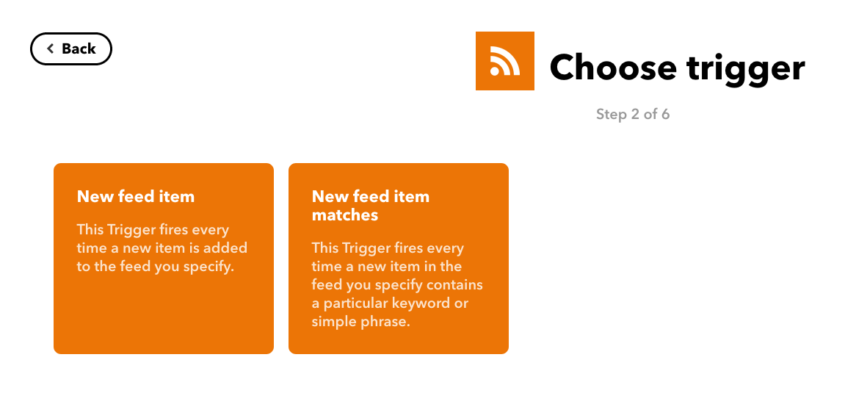 On the following screen, you will have a field to enter your feed URL. With WordPress sites, it's always in this format below, unless you have a custom plugin that is changing your feed address. If you're on another blogging CMS platform, choose the feed address for your website. Make sure you open a new browser tab and test it to be sure.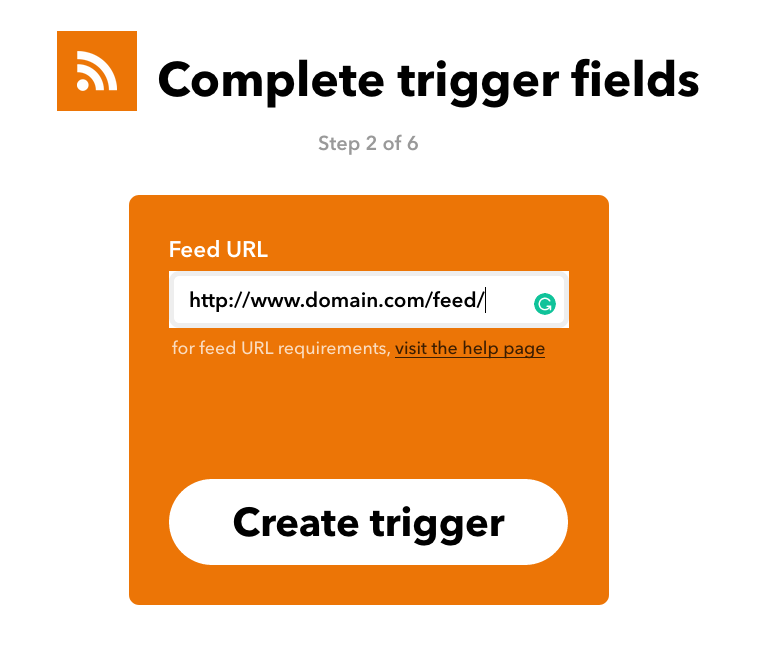 Go ahead and click "create trigger" and choose the "+" button on the next screen for the "that" portion.
Now, let's search for our Tumblr channel and click on it. I found that using a "text post" has the best effect, and I format the body of the post like this below.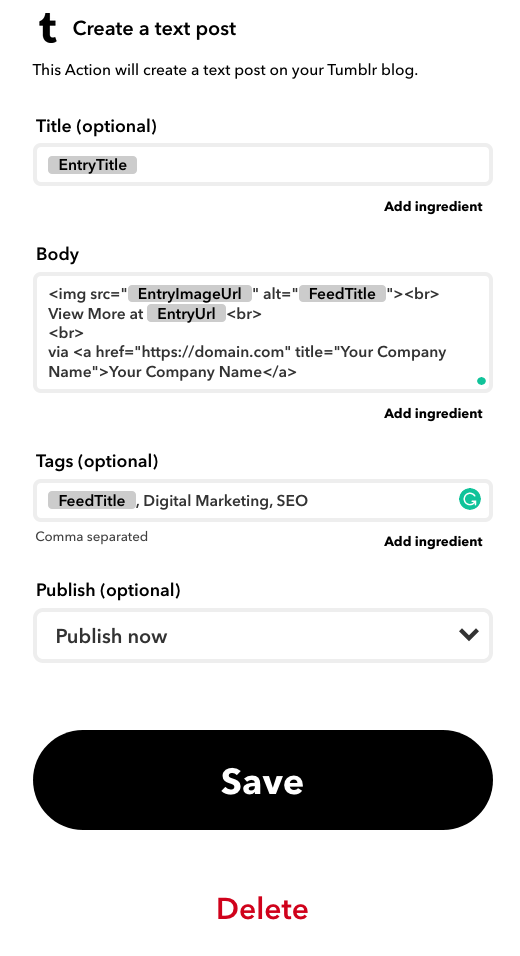 You will want to replace Your Company Name and domain.com to reflect your business. Adding the image source will give us a 2nd link and embed the blog post image directly into this new Tumblr post.
You can also add additional tags by comma separating them. I would only add 2-3 additional tags that might be keywords you're targeting or whatever makes sense to you.
That's it. Click on "Save," and you've successfully created your first applet. Congrats!
Setting IFTTT for Twitter
Now you can create a similar applet for your feed to auto-post to Twitter. Start the same process by going to your icon, then choose "create" again.
When you select the channel, select Twitter and "post a tweet with image".
Click inside the "tweet text" box, and you will have the option to choose more "ingredients". With each recipe, you can add specific ingredients.
For my Twitter recipe, I like to use EntryTitle and EntryUrl only. Feel free to experiment around with this.
Here's where it gets even more interesting. Did you see the trigger that says "new feed item matches" in the initial trigger step?
You can automate this same process and capture only those feed items that match your niche and auto-post them. Think about that.
Go to any significant site such as Forbes, Huffington Post, or CNN and search for your service or keyword on their site. Did anything come up?
When adding a new RSS feed applet in IFTTT, you're not limited to your own feed. You can add those top-rated blogs, then do a "new feed item matches" trigger and have it auto-feed one of your channels.
Finding their feed addresses can be tricky, but spend some time with this, and you can create some compelling automation to your social channels and more.
You could almost have a full Twitter strategy created on auto-pilot if you're limited on budget. I highly recommend you have a social media manager that understands the strategy, but a little automation will never hurt either.
These are just a few quick examples of automating some SEO tasks using IFTTT to build social signals and domain authority links back to your main website. There are many more marketing recipes you can build.
IFTTT for Pinterest
I also like to automate IFTTT for Pinterest by creating a Pinterest "board" for each blog category. This way, each time you post a new blog article, the featured image will get posted to your various boards.
The process is the same to create a new applet as above but much more straightforward. The only caveat is having to know your RSS feed address for each category. If you're on WordPress, it will look something like the below, where "link building" is my blog category in this example.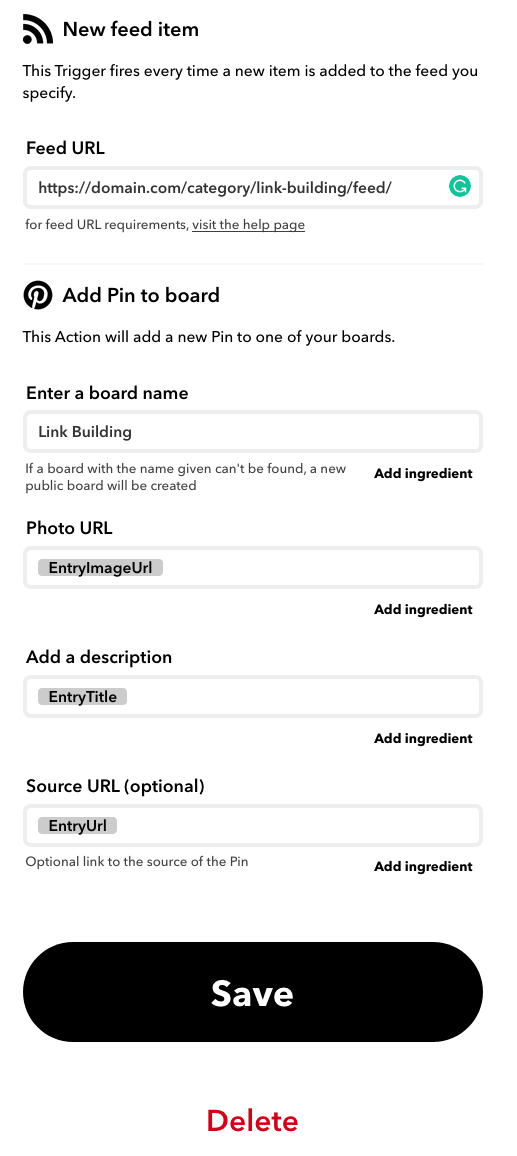 In Conclusion
Automation can and should already be an extremely powerful process in your digital marketing tool chest. The above is a sure-fire way to create a social fortress of automation to extend your link profile and help your SEO efforts.
I would love to hear your thoughts in the comments below. What other ideas have you used to automate your marketing and increase authority to your site?