An incredible 94% of website first impressions are based on the site's design, so if you are serious about offering your website visitors the best possible experience, you need a professional team to get the job done right.
A web agency will make sure that your website design doesn't just look amazing; it's strategic too. There's no point in having a pretty site if it doesn't convert into more sales or business.
If you've been on the fence about whether your business needs a new website or a website redesign, and if you should do it in-house or work with an agency, there are some essential considerations that you need to keep in mind before you start.
Working with a professional web development agency will allow you to:
1. Save Time
Building a new website or conceptualizing a website redesign takes time. And, as the saying goes, time is money.
A new website isn't a simple process; you need to think about the design you want, how the website should flow, and what functionalities you want to be included. Then there's the time that it will take to research whether the features you want are possible and what the price tag will be for them.
A professional developer comes with years of experience on their side (and they're organized!) They'll be able to take your brief and develop a strategic plan that matches your goals as well as your budget.
An experienced design agency has also done all of the learning in advance, with hundreds of website builds under their belt, knowing what works and what doesn't. This means that you're benefiting from an optimized approach from the start.
The web is constantly evolving, and you, as a business owner, don't have time to keep updating yourself on the latest options. Working with a professional web development agency gives you access to the latest developments, but you can leave the details and the implementation to the experts.
While some self-publishing platforms such as Squarespace are a good fit for "brochure sites" or for those that are budget-restricted, you will not get the same level of expertise.
2. Get a Professional, Mobile-Optimized Design
A recent showed that once a visitor hits your site, you have 0.05 seconds to convince them to stay.
It's hard to understand just how short that time interval is. Somehow, in just 50 milliseconds, you need to give your website's visitors a reason to choose your website over your competitors.
These findings are backed up by a study from Adobe that showed 38% of visitors will stop engaging with a website if the content or the layout is unattractive.
And it's not enough to offer desktop users a good experience; the website needs to look great on mobile too.
An incredible 57% of users won't recommend your business if it doesn't offer an excellent mobile experience, and 85% think that the mobile experience should be at least as good as the desktop experience.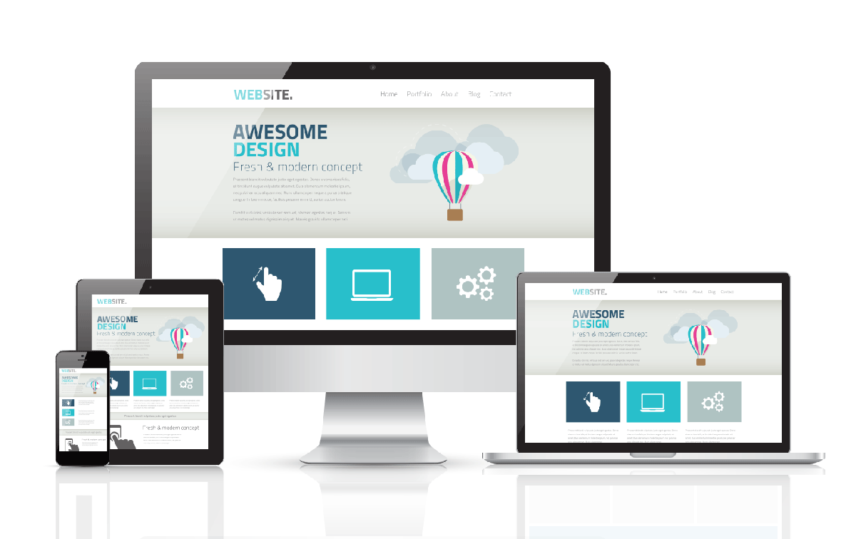 Not convinced that the mobile experience is essential? The research says otherwise:
80% of users will leave your site if it doesn't display well on their device
Over 50% of eCommerce sales in the US come from mobile
Conversion rates on mobile are up 64%
The only way to give potential customers what they want is by designing a better website. But it's going to cost you a lot both in terms of time and effort if you're trying to develop ways to keep your website visitors engaged.
A professional web development agency is invaluable here as they'll bring their expertise to your project so you can reap tangible benefits. They'll also go the extra mile to ensure that your website looks good on mobile, which is something that many businesses overlook.
Responsive design and development are a must!
3. Build your Brand's Credibility
Research published by Stanford found that 75% of users judge a company's credibility based on its website design. So if this is how your audience is judging your business, it needs to be a top priority.
Your website visitors view your website as a window into your company, so it needs to communicate credibility.
You can do this by ensuring that the site design looks professional and providing straightforward navigation and easy access to the most important pages. A web development agency brings a unique, impartial viewpoint. They can look at the big picture and offer insights that will profoundly impact the UX (user experience) that will build your website's credibility.
A website without UX top of mind will not only hurt your credibility but conversions and sales will also be non-existent.
4. Turn Website Traffic Into Customers
As many as 70% of small businesses don't have a clear call to action on their website.
This isn't surprising because, if you're a business owner, your primary skillset is based on the products or services you offer, not knowing the ins and outs of website design.
Working with a website development agency can turn this all around. You provide the industry-specific insights, and they apply their skills in developing high-converting websites, and together you can create the perfect site for your business.
Part of this includes a call to action on each page of the site, which drives website visitors to take action. This can be in many different forms, such as a free trial, a discount, or a downloadable guide that adds value to the user in exchange for their contact details.
5. Make Sure SEO is Baked In
We all know the importance of search engine optimization, right? But did you know the best time to implement SEO is during design and development?
A poorly-developed site can wreak havoc on your visibility within search engines, like Google and Bing. What would be the purpose of a fancy new website if it can't be adequately found?
The web development company you choose to work with must-know technical SEO inside and out.
6. Get the Small Details Right
With a new website design, it can be hard to see the forest for the trees. There's so much that needs to be done and so many small decisions to be made. Unfortunately, this makes it easy to overlook important details.
For example, research shows us that contact information and a phone number are essential for the user experience. According to KO Marketing, 44% of website visitors will leave the site without contact information or phone number. It's also essential to make it easy to access the products and services pages, as that's where 47% of your website visitors will go first.
Conclusion
Think of your website as your top sales representative!
It's the first point of call for most customers and potential customers, and it's always on, 24 hours a day, 7 days a week, 365 days a year.
It's also massively scalable. Your sales team is limited in the number of people it can see in a day, but your website can handle as many visitors as you send. And, if you get it right, it won't need sick leave or vacation days.
So why wouldn't you invest in a professional website design? It can far outstrip the performance of top salespeople, and it does so virtually on auto-pilot.
Still, have questions or are unsure about a web design project you're looking to do? Feel free to connect with us, and we'll be happy to answer all your questions to see if we can help.