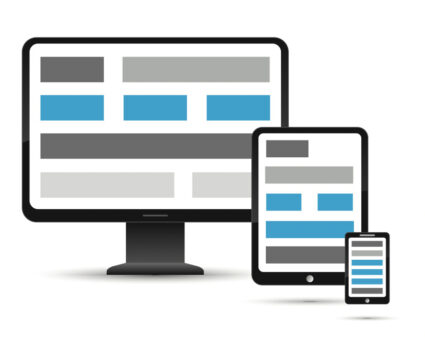 The history of web design is a chronicle of change. From the earliest days of the internet, web designers have been responding to advances in technology and the changing expectations of the public at large. Early static websites have given way to fluid interactive designs that offer online visitors a smoother and more satisfying online experience.
Today, new technology is forcing web designers to reconsider how the end-user is interacting with online content. What works for a home PC or laptop can be ineffective and downright clumsy on a tablet, iPad, or smartphone. More and more people are accessing the internet via mobile devices, and traditional web pages simply do not display accurately. This creates a stumbling block between the mobile user and the content they desire.
But with the advent of responsive web design, things are beginning to change – again.
Responsive Web Design in a Nutshell
Briefly, responsive web design employs cascading style sheets (CSS) and HTML5 along with a bit of JavaScript to create a fluid web page that can expand or contract to fit the end user's screen size. Sites intuitively rearrange or remove content to better accommodate the screen size, resolution, and memory capabilities of the user's device. This flexibility allows a web page to be fully legible and fully functional on anything from a 27 inch PC screen to a half-inch mobile phone display.
Without responsive design techniques, websites need to develop mirror sites, with the original site redirecting users according to the mobile apps they have installed on their mobile devices.
While this answers some of the challenges posed by mobile use, it is clearly not as efficient or effective. Responsive web design vastly improves the user's ability to interact with a given site, and that translates to lower bounce rates and increased conversions.
The SEO Benefits of Responsive Web Design
One of the reasons responsive web design is so important to search engine optimization is that it allows webmasters to maximize their link potential. Consider a site that has not been built to respond to the needs of multiple devices. That webmaster must build a number of alternate sites, for desktops, tablets, and smartphones, to which the parent site can redirect the user. That not only means creating and maintaining a number of duplicate sites, it means that SEO's and webmasters will also have to build links and redirects to get potential users to the proper site. This is both costly and time-consuming. With a responsive website, the SEO only has to build one set of links and can eliminate redirects that can seriously impact a website's search engine ranking.
Don't Let Social Media Steal Your Links
Mobile devices and social media go hand in hand. As users access websites on their smartphones or iPads, they like to share the content with their online friends. This is always a good thing and something that SEOs and webmasters should be trying to encourage. But let's suppose that those users are being redirected to a site's mobile destination.
While they may be sharing what they find with their friends on Facebook or Twitter, those links aren't living up to their full potential. Mobile versions of a web page are less likely to rank, and shares and links to those pages are actually stealing link equity from the parent site itself. By building a responsive site that can operate effectively over a number of possible devices, the links retain their full value when users share what they've found. With those links all directing to one responsive website, it is more likely that the search engine algorithms will take note and the site will increase its online visibility.
The growing popularity of smartphones and tablets demands that SEOs and webmasters embrace the changing ways in which users interact with their online content. Responsive web design offers a way to not only make your website more accessible and user-friendly but to maintain its visibility in an ever-changing online community.