Over the last couple of years, Google has unleashed a flurry of algorithmic updates onto the SEO community. We know what they are by now, and their subsequent updates brought many changes to content marketing and organic search. This has forced all of us to reevaluate our SEO strategies.
One of the areas that were hardest hit by these new algorithmic updates was link building, with Google apparently cracking down on so-called "black hat" and "overly manipulative" link building techniques.
This caused quite a stir, with most claiming that link building for SEO purposes was finally dead. But nothing could be further from the truth. Link building is alive and well, and even tiered link building has much to offer in a post-Penguin and Panda universe. And yes, it can be done "white-hat" style!
Tiered Link Building - What is it?
Tiered link building, as its name suggests, consists of layers of inbound links ultimately pointing to your main site. Think of a pyramid, with your website at the top, and your inbound links flowing up from the base. This technique has been abused by many "black-hat" SEOs, and as a result, given it a bad name.
So, how can we build tiered links safely? We've all actually built tiered links at some point. More on this later. Let's define the "tiers" first.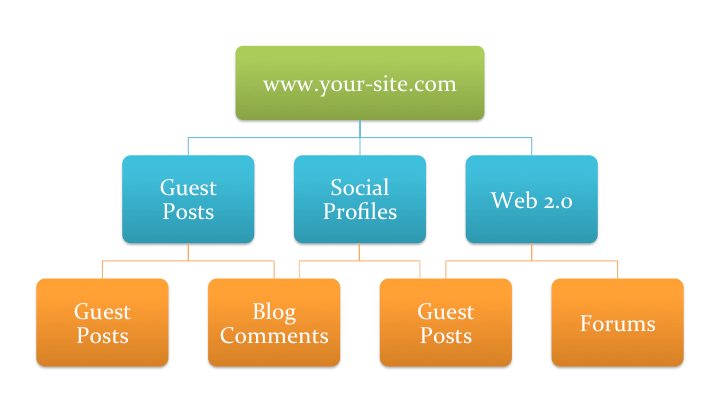 The tip of the pyramid is your main website and is home to the content you primarily want to promote or rank. The second tier would consist of other sites containing links that point to your main website. The third tier would then consist of lower value link building efforts, containing links pointing to the second tier, which in turn point to your primary website. Sounds complicated, let's simplify:
Top Tier - Your main website.
Second Tier - Links that point to your website.
Third Tier - Links that point to the 2nd tier pages.
The theory is your primary website benefits from a greater number of inbound links, all passing "link juice" up the pyramid. It's easy to see how this technique could be abused, but there is definitely a way to adapt it for "white hat" SEO.
Tier One - Your Website
Most people refer to the first tier as an actual first link to the main site. However, for simplicity and this example, the top tier will just be our main site - the content we want to promote or rank.
Google has been pushing for high-quality and authoritative content for quite some time, and that should be the focus of your top tier. When you create content, make sure to also link out to other authority websites in your space or niche. This will naturally give more "trust" to your content.
Whether you create it yourself or contract it out, the content you want to promote should be strong and be carefully crafted. It should also offer real value to your target audience. This could be a new blog post, a page on your site, a tool you developed on your site, or whatever. The point is that it's something on YOUR site.
Tier Two - Did Someone Say Guest Post?
Your second-tier sites will primarily consist of guest posts. It will take some time to create your second tier, as you will need to locate sites currently accepting articles, contact them, and submit your copy. Make sure they are relevant to your industry or niche, as this keeps everything clean.
You might get away with promoting a link to your website on the guest post if it further strengthens the point you're making. However, I don't recommend promoting your site in your guest posts too often. Try to link out to authority sites in your guest post. At the very least, you will have an author bio link that points to your website. This is perfectly fine, and Google will make the connection to the main site from your author bio.
Other options for your tier 2 links are using Web 2.0 properties, such as Tumblr or Blogger. Since you have full control of these blog posts, you will be able to link to your site. Remember though, we're providing value to the visitor with links that further support your content.
Tier Three - Feeding the Tiers
Tier three simply feeds tier 2, again, in a natural way. In the past, spammers and "black hats" would grab whatever links they could find to fill the lower tiers of their pyramid, regardless of the source, such as mass commenting...don't do this.
With Google placing a great emphasis on relevance, your 3rd tier links should still have a basic connection to your niche or industry. As a simple rule, all your link building efforts should be relevant and have high trust.
So, what do these tier three links consist of? It's simple really. Write more guest posts and link them to your tier 2 links. Nothing wrong with this. You're linking authority to authority. See, you've done tired linking before.
Do you read other blogs and comment? Sure you do, at least you should be. When you leave a comment, enter the URL of your tier 2, tier 3, or even your social media profiles. Be active in forums, and link to any mix of your tiered content as well.
Tiered Link Building - Wrap Up
Like any SEO strategy, tiered link building can be turned to either black-hat or white-hat purposes. In a post-Penguin and Panda world, tiered link building still retains considerable muscle when it comes to giving your website some upward mobility in the SERPs.
However, it is important to approach tiered link building with good intentions. It is also important to remember that tiered link building should only be one part of a fully realized, and diversified SEO strategy.
Going forward, as digital marketing and organic search continue to change, the more diverse your SEO strategy, the better your chances of responding quickly and efficiently to those changes.
What are your thoughts? Is this a method you use and have found to be successful?